(30-05-09) PUBLIC ASSEMBLY OF CITIZENS AND IMMIGRANTS WORKERS

Saturday 30 May at 16.00 at SERMIG in Piazza Borgo Dora, 61 Torino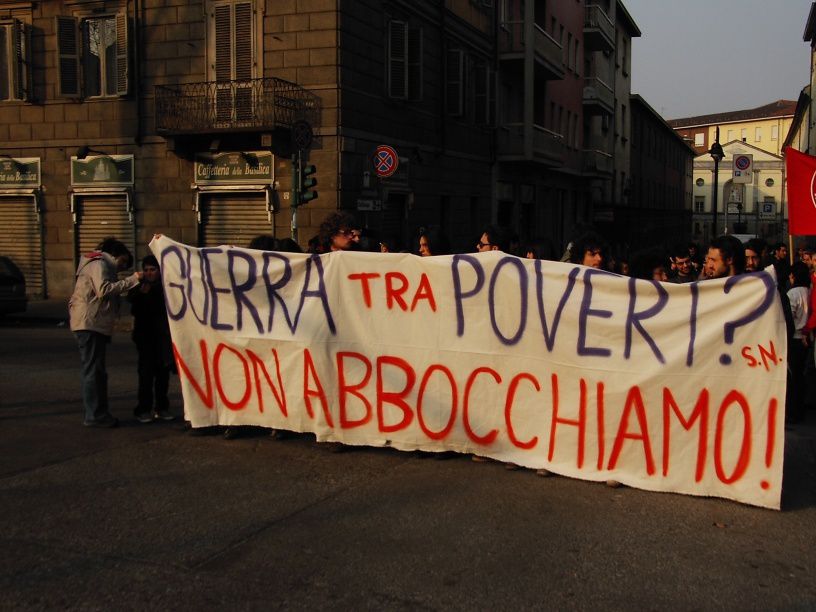 The economic crisis has left millions of Italian and immigrant families and workers in the street. Immigrants we citizens pay twice this crisis. First with the loss of work and second,
That of the residence permit at the risk of ending up in a CPT.
This scenario is the logic and the result of two laws that have turned into a nightmare the lives of immigrants workers.
The Turco-Napolitano law, approved by the Center-Left in 1998, which was established for the first time in Italy Accommodation Center for immigrants.
The Bossi-Fini law passed by the center-right government in 2002 that connects the possibility to stay with an employment contract. So submitting to any form of exploitation and forcing us to accept.
The Bossi-Berlusconi government believes that the solution to the current economic crisis, passes through the hunting of immigrants. Another measure called the "package (in) security" is clear evidence.
The proliferation of discrimination and racism against us, both in society and in certain rules and institutional decisions at national and local level, require our answer taken as players and not as spectators of this ordeal.
We are a collective of immigrants citizens and workers engaged in the promotion of cultural leadership, social and political of immigrants.

We participate and sponsor at national level, along with many other immigrants of various Italian cities (Roma, Milano, Perugia, Napoli, Verona, Firenze, etc ...) the route to the first National Congress of immigrants in Italiy.


Our goal is of sharing this experience, so we invite all citizens and migrant workers at a
Public Assembly
Saturday 30 May at 16.00 at SERMIG in Piazza Borgo Dora, 61 Torino.

• Against the Safety Package, because it violates the principle of equality enshrined in Article. 3 of the Constitution: All citizens have equal social dignity and are equal before the law, without distinction of sex, race, language, religion, political opinion, personal and social conditions.
• Repeal of laws Bossi - Fini and the "NO" to return at Turco - Napolitano
• The general regularization of all immigrants in Italy.
• The cancellation of the Protocol between the Interior Ministry, Poste Italiane and patronage on renewals of residence permits.
• For clear break of the link between residence permit and employment contract.
• For a law on asylum policy that truly protects applicants and refugees.
• For the citizenship of residence and voting rights for all immigrants
• For the final closure of the centers of Identification and Expulsions (CEI).
Collettivo Immigrati Auto-organizzati